Orange House Properties – Student Housing Portfolio
Monday, February 29th, 2016
By: Sam Phillips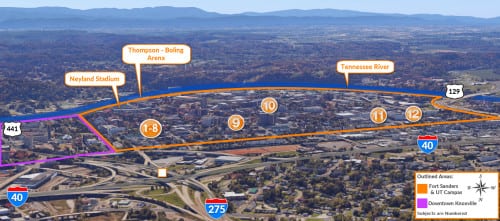 Goldman Partners Realty is pleased to present this rare opportunity to acquire a portfolio of student housing in Fort Sanders.  Located in a walk-to-campus neighborhood and featuring eighty one beds in ten converted houses and a six-unit conventional apartment building, the Orange House properties are a chance to invest in high-demand units which have a history of 100% occupancy.  All leases are full-year, with joint and several tenant liability.
Orange House offers a lower cost, convenient alternative to higher priced properties in the same neighborhood.  The renovated buildings are in very good condition with no significant deferred maintenance.  Large rooms feature wood flooring, modernized kitchens include ranges, refrigerators, and microwaves, with renovated baths, these apartments are easy to lease.  Many units have washers and dryers furnished by the landlord.  Roofs were replaced in 2011-2012.  All units have heating and air-conditioning with a combination of central, window and PTAC-type units.  Tenants pay their own electricity in all units; regarding water and sewer:  Tenants pay in some units, others, the landlord does.  Most have off-street parking for tenants.  Third party management is available for those who desire a more passive investment.
See the linked PDF for details and submit the CA for financial information.
Click here for Confidentiality Agreement
Click here for Offering Memorandum
Back to Blog
---