UT Knoxville's Growth Means Increased Demand for Off-Campus Student Housing
Wednesday, June 21st, 2017
By: Steve Goldman, CCIM
By Steve Goldman, CCIM & Henry Trotter, UTK Finance Major
Student enrollment is growing at the University of Tennessee at Knoxville (UTK). Last August, 2016, UTK welcomed 4,825 incoming freshmen, the largest freshman class in 30 years. UT Knoxville has increased the size of their freshman class each of the past six academic years. Enrollment for Fall 2016 is 28,052 students, including 22,139 undergraduates, a six percent increase over the past five years.
The on-campus university-owned dorms are each being replaced, upgraded to more modern designs, but the total number of "beds" is not increasing. And since only freshman are required to be in on-campus housing, each larger class means an even higher demand for off-campus housing the next year.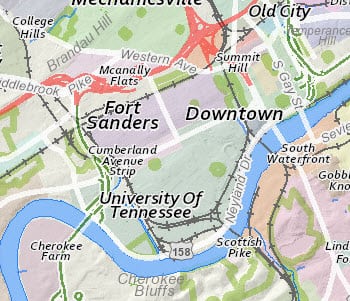 To meet the demand, national student housing developers have built several major new-construction student housing complexes in Knoxville over the last few years.  Some of these are in the prime, walk-to-campus "Fort Sanders" community (known locally as "The Fort"), while others are further away such as around Cherokee Trail on the south side of the river.
In reality, UT Knoxville students live in market-rate apartment complexes all over Knoxville, not just in apartments advertising as student housing.  Many take apartment-provided shuttle buses, while others drive 15-30 minutes to campus each day. However, many students would prefer walk-to-campus options. This demand, along with the fact that new-construction apartments come with strong rents, drives up rents for the remaining privately-owned rental properties in Fort Sanders.
Investing in rental student housing properties in the Fort can be an excellent strategy. However, there are quite a few special factors an investor should take into consideration when buying or selling. For example, many of the Fort Sanders investment properties were built around 100 years ago! What updates have been completed? Conversely, what renovations or deferred maintenance are needed? Is the current owner achieving the optimum rental income or is there an upside to buying and raising rents? Are utilities a landlord or tenant expense? Are the leases "joint & several" and are there parental guarantees?  Is the property being rented by the bed or unit? Which sales comps are truly comparable? What is the maximum rent rate for a particular property? What is special about my property?
If these factors and more are not addressed correctly, either the buyer or seller may be leaving money on the table.
Whether buying or selling, we strongly encourage investors to select a real estate agent who is specifically experienced in student housing to help navigate these waters.  Several agents at Goldman Partners Realty have years of experience assisting investors with Fort Sanders student properties.  We track over 300 Fort Sanders student housing properties and their owners using our own proprietary database. We track all property sales and are therefore able to advise our clients with confidence.
Some of our recent sales include:
Available Fort Sanders student housing properties:
Goldman Partners Realty also has "pocket listings" available in Fort Sanders.  These are available for sale but not actively listed.  Contact Steve Goldman or John Dempster for more information.
Sources
https://oira.utk.edu/factbook/enrollment
http://tntoday.utk.edu/2016/08/09/class-2020-ut-welcomes-4800-freshmen-volunteer-family/
http://tntoday.utk.edu/2014/08/13/big-orange-campus-welcomes-largest-freshman-class/
Back to Blog
---