Marketing Your Property For Sale on a Billboard
Monday, November 2nd, 2015
By: Steve Goldman, CCIM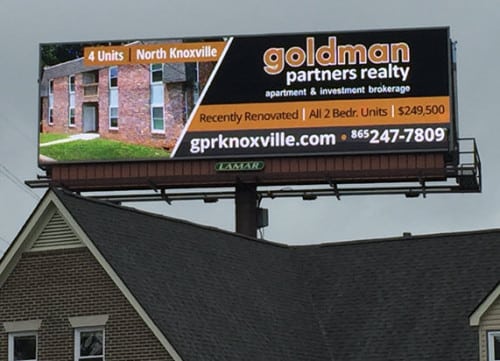 Are you listing your apartments with Goldman Partners Realty? If so, you might see your property advertised on billboards around town!
We are taking advantage of the flexibility of digital billboards to promote our client's listings. Starting today, you can see selected properties at these locations:
Nov. 2-8: 9711 Kingston Pike (North side, Facing East)
Nov. 9-15: 7121 Maynardville Hwy (West Side, Facing North)
Nov. 16-22: Alcoa Hwy (South of Maloney, by Sevier Heights Baptist Church) (West side, Facing South)
Nov. 23-29: 10408 Kingston Pike (South side, Facing West)
Get your apartment properties sold quickly by the multifamily experts at Goldman Partners Realty! Call, text or email us today for an opinion of price and advice on preparing your property for sale.



Back to Blog
---